Goodbye Affiliate Marketing - It's Partner Marketing From Here On Out
Chris Johnson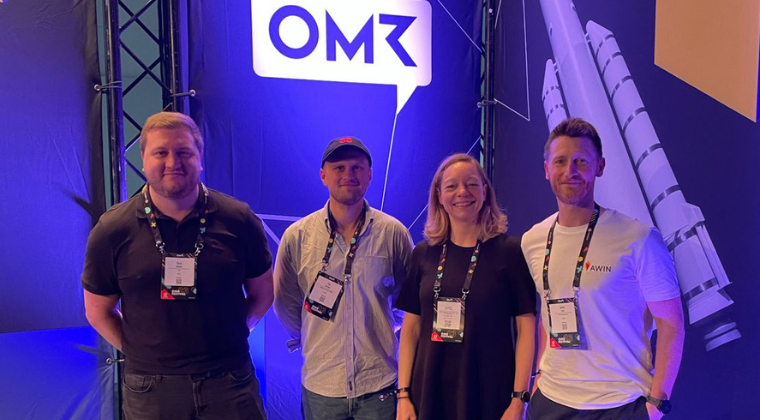 Back from the OMR Festival in Hamburg, intent.ly COO Chris Johnson reflects on the Affiliate Marketing panel session - asking himself and some experienced industry peers just what makes the channel so unique and full of opportunities...
Next up on the speaking circuit for this year was a visit to the
OMR Festival
in Hamburg where I was invited to take part in a panel discussion hosted by Awin's Chief Customer Officer, David Lloyd.

Joining me on the panel was Natasha Phillips, Global Head of Affiliates and Partnerships at The Body Shop, and Tim Kerinnis, Affiliate & Partnership Manager at kfzteile24 GmbH.

David initially spoke about how the traditional marketing funnel is becoming outdated and how he is instead in favour of Scott Galloway's clock model framework, which is a more cylindrical journey covering pre-purchase, purchase and post-purchase phases. I'll echo his shout out to Scott's marketing podcast, Pivot, which is well worth a listen.

OMR hosts about 60-70,000 digital marketing professionals across several airport-style hangers and the great and good from all echelons of the digital sphere were exhibiting. Following an initial audience poll, I was genuinely quite shocked to see such a lack of knowledge and actual affiliate practitioners in the room. All it takes is a step outside of the usual conference circuit into the wider mix and affiliate seems to become the poor relation in the digital marketing family.

After my eyebrows had returned to their resting place, I thought about it a bit more and took the positives from the situation. The main positive being there was a clear desire to know more about the channel as the room was full to the brim. It did remind me that we (or I do at least!) often forget to communicate the basics and take the opportunity to encourage more interest and understanding in the channel.

So, I decided to get back-to-basics and ask a number of my industry peers for their views on what makes the affiliate marketing channel so unique and where they think the opportunities lie.
If you're new to the channel or are hearing good things about it and want to learn more, here's a few reasons why you should join us:


Helen Southgate, Chief Global Officer at Acceleration Partners:

"To stay in the affiliate channel as long as I have, something must be there to keep it exciting. For me it's the diversity and ongoing opportunity of the channel. There are many different types of partners, ways to work with our clients and partners and there is always something new and interesting round the corner to keep us on our toes. I'm not sure any other industry is as dynamic as the affiliate channel."


David Lloyd, Chief Customer Officer at Awin:

"I love the affiliate and partner marketing channel because of the incredible diversity of partners available, which means that advertisers can build a totally unique campaign with a wide range of partners, all in one place. We can introduce consumers to new brands, help advertise to optimise site conversion, and do everything in between."


Nic Yates, Head of Global Affiliate Partnerships at Silverbean:

"The affiliate channel enables brands to collaboratively work with a variety of partnership types primarily on a CPA basis. As programmes look to mature so does the type of partnership from traditional affiliates to premium content partners, influencers, brand-to-brand partnerships - alongside the need to support upper funnel events like database registration and app download. The channel has a significant opportunity to grow as other paid marketing channels see an increase in cost and a decrease in targeted reach."


Mark Smith, Industry Advisor:

"I've been fortunate to be involved in a lot of different advertising channels and, for me, performance marketing remains one of the most effective and innovative. It feels as if we're in the next phase of growth, where there's finally a strong ecosystem being built around the channel, and that affiliate is finally adopting its rightful position as part of the whole marketing mix, as opposed to sitting on one side of it."


Tara McCommons, VP of Sales & Marketing at LinkConnector:

"Affiliate Marketing is the bridge (paved with measurable data insights) for online merchants of all sizes to grow brand engagement and profitable revenue by reaching their customer demographic at virtually every touchpoint in their discovery and purchase journey. All accomplished through meaningful, performance focused partner relationships skilled in the specialised technology and digital talent needed for ecommerce brands to stand out and thrive, while preserving the marketing budget. It's an ever-invaluable and must-have asset for ecommerce merchants, especially now with today's economic uncertainty and rising consumer expectations."


Let's not forget some of the prominent numbers that are often tied back to the affiliate industry, that of a 15:1 ROI and a channel that continues to grow year after year.

One other point of note - David asked the audience to give a preference to either' affiliate marketing' or 'partner marketing' having heard us discuss the subject matter during the panel session. It was a very clear win for 'partner marketing' - which as an affiliate marketer for nearly 20 years now, really quite unnerved me.

Here's to the new world as a partner marketer (*googles self-help change management*).


---

intent.ly customers typically see a 7x average conversion rate using our suite of proprietary real-time technology solutions. Our overlay campaigns intervene at the right moment, saving the session and providing truly measurable and incremental sales. Book a demo today.