Easter Insights From Hotel Chocolat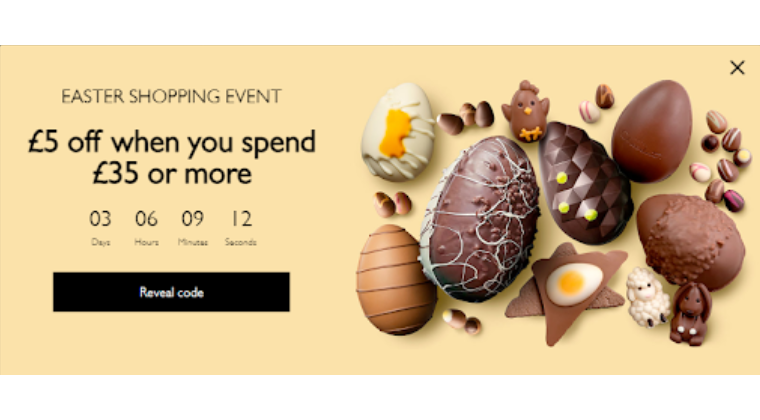 We spoke to Hotel Chocolat's Digital Trading Manager for insights on preparing for Easter - including conversion rate optimisation strategies, trends, and the future.
Easter presents a huge opportunity for chocolate retailers, with spending in the UK of £1.3bn last year (Statista, 2022) - and a whopping 3.5 million chocolate eggs sold. (Did you know the Easter Egg was first brought into the UK in 1873 by Frys of Bristol, and it was made entirely out of solid milk chocolate?!).

Today the UK retail market for chocolate is worth £5.9 billion and growing, according to Mintel. Peak seasons like Easter, along with Christmas and Valentine's Day, are high traffic milestones - top brands have strategies in place to maximise conversion rates and take advantage of increased buying pressure.

We sat down with Hotel Chocolat's Digital Trading Manager Steven McGennity to get his insights on preparing for Easter, plus post-Covid trends and what's next for the luxury brand.
____
For anyone who doesn't know what it means to be Hotel Chocolat, how would you describe the brand and what it offers consumers?

Hotel Chocolat is a Tree to Bar chocolatier making people happy through chocolate, and experts in all things cacao. In addition to luxury chocolate, we utilise as much of the cacao bean as we can. We offer "Velvetised Creams" for boozy gifts and hot chocolate flavours to enjoy with our Velvetiser system.

How does Easter compare to other peak seasons for Hotel Chocolat?

Easter is a very important season for us, and as you can imagine, it's all about the eggs! We like to think of ourselves as pioneers, always striving to be fresh and creative with our products - our range of Extra-thick Easter Eggs offer something different and goes against the grain of the usual thin-shelled eggs available elsewhere, but we also have egg sandwiches, bunnies and more. Christmas is of course a huge season for us too, but we find the shopping behaviour is different – with so many gifts to send, our use of cacao allows us to offer not just chocolate gifts, but also alcohol, our Velvetiser, hampers and more.

How far in advance do you plan for Easter?

We launch our Easter range on the website immediately after Christmas, usually on Boxing Day! Online searches for Easter gifts can start as early as December, so it's important our website is stocked and optimised for search. We plan our products usually at least a year in advance, using customer insights, trends, budgets - and collaborating on new ideas.


"Using exit intent technology enables us to re-engage buyers with imagery and reminders that create urgency."


What kind of on site marketing campaigns do you run?

As a luxury chocolate brand, our marketing campaigns typically focus on all the things we do well and the reasons consumers should shop with us; highlighting our originality and authenticity, our cacao mantra, ethical policies, and high product quality. And, of course, reminding customers of key dates and that we're here to help with their gifting needs.

Using exit intent technology enables us to re-engage buyers with imagery and reminders that create urgency. We'll show countdown overlays to remind them of delivery deadlines or offers ending, driving them back to the Easter category or to complete their purchase.

We use tactical overlays to reward early shoppers, to convert traffic via targeted acquisition campaigns. We typically see a 20% conversion rate for these targeted campaigns, which is usually at least 2 x higher than our site average. It makes a huge difference.

Working with the team at intent.ly means we can be reactive to trade and implement a fast turn-around on new or adjusted campaigns to make sure we get the best results possible.

With the current economic situation and increasing marketing costs, it's now more important than ever that we maximise the value of our existing traffic.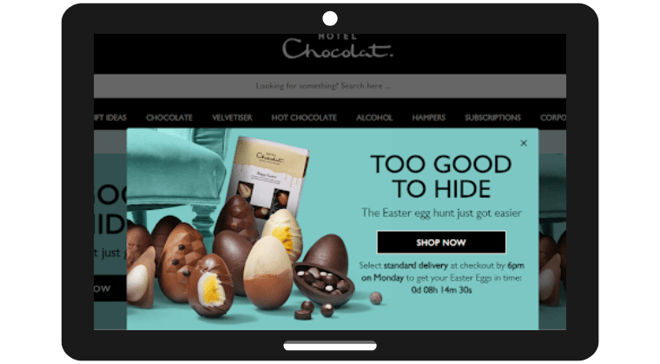 How did the Covid pandemic affect sales for Hotel Chocolat?

We were able to be extremely agile during Covid which was invaluable as we were presented with a number of challenges as a result of our stores closing for a considerable period of time. We consolidated our range online and simplified our operations which allowed us to make as many people happy through our chocolate as possible.

After Covid, many of our guests did return back to our cafes and stores but our website has retained many of the new customers we brought on board. Times are tough for everyone at the moment but our customers' appetite for good chocolate remains strong – particularly over Easter.

Are we gifting more chocolate than we're eating?

From a website perspective, during our busiest seasons typically over 70% of customers are looking for gifts and therefore our service offerings and gifting upselling opportunities are very important for us to get right. That being said, our customers have and will always enjoy good chocolate and our VIP.ME membership base is continuing to grow. We have hot chocolate subscriptions available too, and we are seeing our customers really consuming more and more each year.

"As the cost of living crisis deepens... getting maximum value from the traffic on site will be increasingly important."


What trends do you predict for the year ahead?

We're definitely seeing more health and ethically conscious buyers than ever before, who want to know where their products come from and how they're made. In 2021, we launched Gentle Farming, a pioneering initiative that will further enhance the lives of our farmers in Ghana and help ensure our chocolate is sustainable for the long term.

As the cost of living crisis deepens and a reduction of marketing spend will likely continue for many businesses, getting maximum value from the traffic on site will be increasingly important. AI, personalisation and CX are trends that businesses cannot ignore.

What's next for the Hotel Chocolat web team - what are you focusing on after Easter?

A key focus for us right now is preparing for GA4 and the inevitable end of third party cookies. Zero and first party data strategies are so important, and part of ours is of course using overlays and other avenues for lead generation on our site.

Great UX is key for keeping customers in the buying funnel, making it easy for them to buy, and compelling them to return and repeat the experience. We're always testing, analysing and improving the customer journey, so that will remain a focus.

And of course, we're already planning for Christmas!
---

intent.ly customers typically see a 7x average conversion rate using our suite of proprietary real-time technology solutions. Our overlay campaigns intervene at the right moment, saving the session and providing truly measurable and incremental sales. Book a demo today.